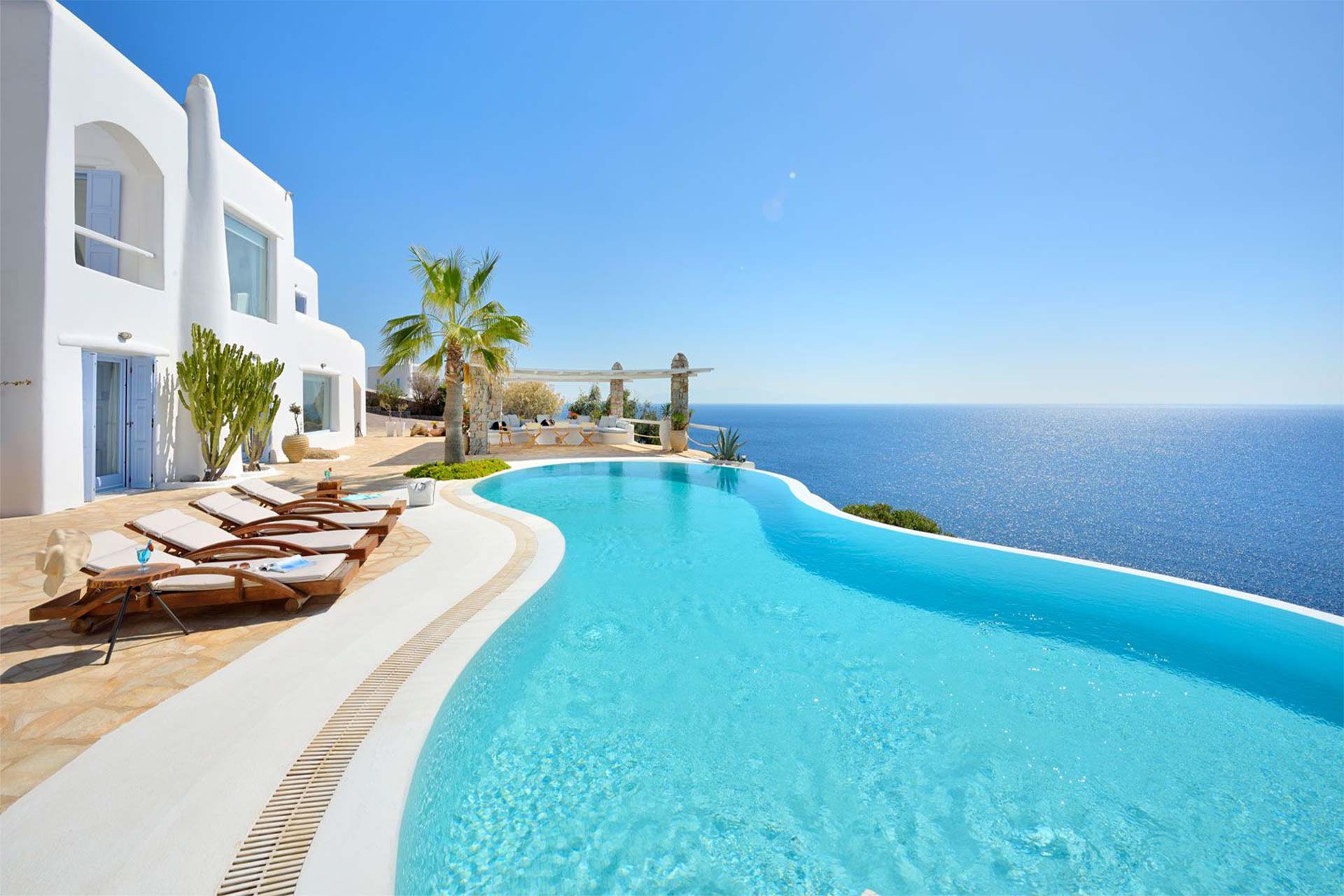 05 Jan

Villa Blu Mare

VILLA Blu Mare
Agios Lazaros-Psarou, Mykonos

18   

10   

10   

Yes
One of the island's most unique properties is Villa Blu Mare . It superbly combines everything that a guest could de- sire, even the most demanding ones. Being exceptional as it is, makes it rarely available to people wishing to stay here.
The property is situated on the edge of a rocky shore, granting it absolute privacy as well as private access to the sea. This is one of the very few instances on the island where you can be both close to where all of the island's hotspots are, and yet also live in perfect harmony and isolation, making it ideal for those who value their privacy but also want to get to places quickly.
The view is nothing short of spectacular being that it is panoramic. You will enjoy sunsets over the gulf of Ornos Bay, and towards the island of Delos, which the ancient Greeks were particularly enamored with because of the powerful energy that it emanates. The endless shades of blue of the Aegean Sea are sure to both inspire and relax you.
Furthermore, this is one of the few properties on the entire island that is totally immune to adverse weather con- ditions, namely the wind. The villa is so well protected from the "meltemi" (northerly wind) that prevail throughout the summer that you will probably be confused to hear everyone fussing about it (Mykonos can be very windy at times).
The residence is divided in two main villas, two guest houses, and a two-bedroom apartment, thus providing ac- commodation for a total of 18 people. Villa Blue Mare is arranged in such a way that its residents can be both inde- pendent and internally private as well as enjoying a lot of communal spaces externally, with so many places to choose to relax in and/or party in. You will find it difficult to run out of new options.
The distances are also extremely convenient: only a 10 minute drive from Mykonos Town, 10 minutes to the airport, just 6 minutes to Psarrou beach and the ever popular Nammos and about 12 minutes to Scorpios.
We take security very seriously, even though the island is very safe. Villa Blue Mare  was designed as a highly secure, gated property, allowing its guests to enjoy absolute discretion and privacy while escaping from the islands hustle and bustle. There are no hotels or commercial properties in the vicinity.
Finally, on the lower level of the land guests will find a stair path leading to a private dock which can only be ac- cessed by them, and which can be used for swimming, convenient sea transports to any destination, or you could even dock your private yacht.
Add to all of this specialized concierge services, and all-in-all you are looking at possibly one of the most top-end experiences available on the island.
INDOOR
A/C in all bedrooms
Smart TV
Wi-Fi
Safe box
Bath Amenities
Fully equipped kitchen
Hair dryers
OUTDOOR
Infinity pool
Private beach/dock for yacht acess
Sonos Sound System
BBQ
Lounge area
Two Dining areas
Private Parking
SERVICES INCLUDED IN PRICE
Daily Cleaning Service
Live in Maid (separate quarters)
Change of linen every three days
Change of towels every three days
Click image below to see photogallery